Newsletter
Get the latest news and show info via email! Sign up for the free newsletter:
Calendar
«
December 2017
»
S
M
T
W
T
F
S
26
27
28
29
30
1
2
3
4
5
6
7
8
9
10
11
12
13
14
15
16
17
18
19
20
21
22
23
24
25
26
27
28
29
30
31
1
2
3
4
5
6
Seattle Municipal Tower
700 Fifth Avenue
Seattle
11:30am–1:30pm

Got friends who work downtown? Maybe you work downtown? Come spend your lunch hour with me in the Third Floor Lobby of the Seattle Municipal Tower!

10th Annual Celtic Christmas Celebration
Transit Shed Event Center
Anacortes, Washington
Sponsored by the Port of Anacortes

Featuring: The Seattle Irish Dance Company,special guests Veronica and Pamela from the Seattle Opera, and a special visit from Santa Claus! This annual community concert is a gift to the people of Anacortes by the Port of Anacortes and it is free to the public! Please bring a donation of a toy for the U.S. Marine Corps Toys for Tots, and canned, non-perishable food items for the local Food Bank.
On Facebook?
Follow me on Facebook and check out exclusive pictures, comments from people who come to the shows, and more!
Educators
I have always been an advocate of community outreach performances—from college to kindergarten, it's always fun to go back to school! If you'd like to have me visit your school for assembly performances, and classroom workshops, get in touch with me or my friends at Academic Entertainment!
Mist on The Mountain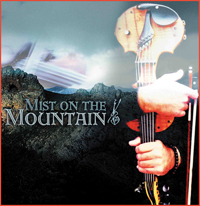 Mist on The Mountain features eleven tracks that strip Geoffrey Castle to his bare essentials: a man and his violin. Pulling influences from jazz, blues, world music traditions plus the palettes of avant-garde composers and rock guitarists, Geoffrey Castle does it all—and performs it all. No guest stars, no tricks, nothing up his sleeves.
On his solo album, the Seattle violinist offers and eleven-track collection of stunning originals showcasing his pioneering talent on six-string electric violin. Tapping ancient Celtic melodies and modern pop, rock, and jazz, Castle has creased a pure, uncluttered masterpiece. Among the gems is the ethereal "Underhill's Waltz," and a remarkable version of Miles Davis' "All Blues."
—Gene Stout, Seattle P-I
Tracks — Click to listen or purchase for download from Bandcamp!