Newsletter
Get the latest news and show info via email! Sign up for the free newsletter:
Calendar
«
May 2017
»
S
M
T
W
T
F
S
30
1
2
3
4
5
6
7
8
9
10
11
12
13
14
15
16
17
18
19
20
21
22
23
24
25
26
27
28
29
30
31
1
2
3
4
5
6
7
8
9
10
Juan de Fuca Festival
Vern Burton Community Center
308 East 4th St. in Port Angeles Washington.
Port Angeles, Washington
4-5:30pm

I played the very first Juan de Fuca Festival in Port Angeles. This show will be the first time I've played there with a full band in over 15 years, and we're closing out the main stage on Sunday! Make a weekend of it. This festival is one of the best, and most surprisingly eclectic, in the whole nation!

Details soon!
Educators
I have always been an advocate of community outreach performances—from college to kindergarten, it's always fun to go back to school! If you'd like to have me visit your school for assembly performances, and classroom workshops, get in touch with me or my friends at Academic Entertainment!
Feed Your Need
Use an RSS reader? The Geoffrey Castle RSS feed always has the latest list of upcoming shows!
Mist on The Mountain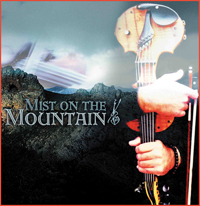 Mist on The Mountain features eleven tracks that strip Geoffrey Castle to his bare essentials: a man and his violin. Pulling influences from jazz, blues, world music traditions plus the palettes of avant-garde composers and rock guitarists, Geoffrey Castle does it all—and performs it all. No guest stars, no tricks, nothing up his sleeves.
On his solo album, the Seattle violinist offers and eleven-track collection of stunning originals showcasing his pioneering talent on six-string electric violin. Tapping ancient Celtic melodies and modern pop, rock, and jazz, Castle has creased a pure, uncluttered masterpiece. Among the gems is the ethereal "Underhill's Waltz," and a remarkable version of Miles Davis' "All Blues."
—Gene Stout, Seattle P-I
Tracks — Click to listen or purchase for download from Bandcamp!