Newsletter
Be in the know about upcoming shows! Sign up for the free newsletter:
Calendar
«
May 2013
»
S
M
T
W
T
F
S
28
29
30
1
2
3
4
5
6
7
8
9
10
11
12
13
14
15
16
17
18
19
20
21
22
23
24
25
26
27
28
29
30
31
1
2
3
4
5
6
7
8
Bake's Place Bellevue
155 108th Ave NE, Suite 110
Bellevue, WA 98004
425-454-2776

The Geoffrey Castle Band, featuring Steve Boyce, and Jonathan Sindelman on the grand piano returns to Bake's. I'm lining up the special vocal guest right now. Last time, on Valentine's Day, we had Josephine Howell who just melted the place with her soulful R&B vocals. Would you mind if we did that again?

The Wilde Rover
111 Central Way
Kirkland, WA 98033-6107
(425) 822-8940
Reservations strongly recommended
Educators
I have always been an advocate of community outreach performances—from college to kindergarten, it's always fun to go back to school! If you'd like to have me visit your school for assembly performances, and classroom workshops, get in touch with me or my friends at Academic Entertainment!
On Facebook?
Follow me on Facebook and check out exclusive pictures, comments from people who come to the shows, and more!
Mist on The Mountain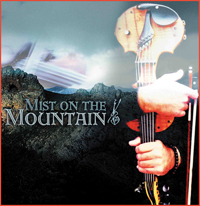 Mist on The Mountain features eleven tracks that strip Geoffrey Castle to his bare essentials: a man and his violin. Pulling influences from jazz, blues, world music traditions plus the palettes of avant-garde composers and rock guitarists, Geoffrey Castle does it all—and performs it all. No guest stars, no tricks, nothing up his sleeves.
On his solo album, the Seattle violinist offers and eleven-track collection of stunning originals showcasing his pioneering talent on six-string electric violin. Tapping ancient Celtic melodies and modern pop, rock, and jazz, Castle has creased a pure, uncluttered masterpiece. Among the gems is the ethereal "Underhill's Waltz," and a remarkable version of Miles Davis' "All Blues."
—Gene Stout, Seattle P-I
Excerpts
Mist on The Mountain

Title track from the album!

Zephyr

An excerpt from a favorite track on Mist on The Mountain.

Underhill's Waltz

A short clip of the song that was featured on National Public Radio.

Shannon

A clip of the song Geoffrey wrote for his wife.

Float Downstream

"Float Downstream" is a popular track from Mist on the Mountain; here's a version recorded live at Seattle's Triple Door Theater.
Track Listing
Mist on The Mountain
Underhill's Waltz
Float Downstream
Shannon
In Flight
Leavin'
All Blues
Kwela Sunset
Waterfall
Zephyr
Darwin