Newsletter
Get the latest news and show info via email! Sign up for the free newsletter:
Calendar
«
May 2017
»
S
M
T
W
T
F
S
30
1
2
3
4
5
6
7
8
9
10
11
12
13
14
15
16
17
18
19
20
21
22
23
24
25
26
27
28
29
30
31
1
2
3
4
5
6
7
8
9
10
Juan de Fuca Festival
Vern Burton Community Center
308 East 4th St. in Port Angeles Washington.
Port Angeles, Washington
4-5:30pm

I played the very first Juan de Fuca Festival in Port Angeles. This show will be the first time I've played there with a full band in over 15 years, and we're closing out the main stage on Sunday! Make a weekend of it. This festival is one of the best, and most surprisingly eclectic, in the whole nation!

Details soon!
Shannon Castle Art
On Facebook?
Follow me on Facebook and check out exclusive pictures, comments from people who come to the shows, and more!
New World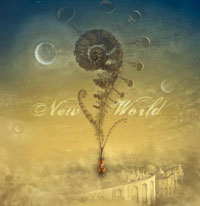 New World presents twelve original compositions by John Schussler and Geoffrey Castle, plus a stormy rendition of Ornette Coleman's "Lonely Woman" and a funky arrangement of several traditional Irish tunes in "Farewell to Inwood." Originally published as the Guarneri Undergound's first album, New World is now remastered to be clearer than ever, and features several tracks that have become audience and radio favorites.
Much more than an exposition of the violin, [New World] is a world's fair of music that tantalizes with its sounds, sights, and smells. This group is a native market in a big city, a bazaar by a pyramid where incense lingers in the air. The musicians switch from fez to sombrero to top hats as they unearth the beauties of North African, Spanish, Irish and classical forms. … With so many groups playing at rather than with world music, it's refreshing to hear a concept that is so unified. The violinists really understand how versatile the instrument is and are fearless in casting it in so many diverse settings. Wow! Did this really come from Seattle?
—Gary Bannister, 5/4 Magazine
Tracks — Click to listen or purchase for download from Bandcamp!
Personnel
Geoffrey Castle - Violin, Electric violin, producer
John Schussler - Violin, Electric Violin, Percussion, Guitar, producer
Garey Shelton - Bass, engineer
Ben Smith - Drums
Eric Tingstad - Guitar (Reflected Moon)
Jovino Santos Neto - Piano (Pacifying the Cat)
Jami Sieber - Cello (Pacifying the Cat)
Dan Tyack - Pedal Steel, Peda-bro (Box of Marbles)
Mike Gordon - Clarinet (Baglama)
Behnam Khoshkhoo - Vocals (Gazirah)
Michael Lord - Mix
Rick Fisher - Mastered at RFI Mastering Lab, Seattle
Cover art by Don Barnett