Newsletter
Get the latest news and show info via email! Sign up for the free newsletter:
Calendar
«
December 2017
»
S
M
T
W
T
F
S
26
27
28
29
30
1
2
3
4
5
6
7
8
9
10
11
12
13
14
15
16
17
18
19
20
21
22
23
24
25
26
27
28
29
30
31
1
2
3
4
5
6
Seattle Municipal Tower
700 Fifth Avenue
Seattle
11:30am–1:30pm

Got friends who work downtown? Maybe you work downtown? Come spend your lunch hour with me in the Third Floor Lobby of the Seattle Municipal Tower!

10th Annual Celtic Christmas Celebration
Transit Shed Event Center
Anacortes, Washington
Sponsored by the Port of Anacortes

Featuring: The Seattle Irish Dance Company,special guests Veronica and Pamela from the Seattle Opera, and a special visit from Santa Claus! This annual community concert is a gift to the people of Anacortes by the Port of Anacortes and it is free to the public! Please bring a donation of a toy for the U.S. Marine Corps Toys for Tots, and canned, non-perishable food items for the local Food Bank.
Shannon Castle Art
Feed Your Need
Use an RSS reader? The Geoffrey Castle RSS feed always has the latest list of upcoming shows!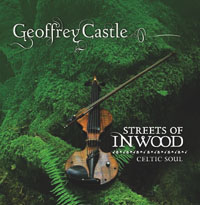 Streets of Inwood
Celtic Soul
This seven song EP is music that I've been wanting to make for a long, long time—combining the lyrical power of traditional Irish melodies with old school funk, blues, jazz, and gospel sounds, rocking improvised solos and arrangements, to create something that feels uptown, but Celtic at the same time. Just like Inwood, my old neighborhood in Manhattan.
With Eric Robert on keys, Garey Shelton on bass, and Alan White and Ben Smith playing drums, I found that sound. Enjoy!
Tracks — Click to listen or purchase for download from Bandcamp!
Personnel
Geoffrey Castle - violins
Garey Shelton - bass
Eric Robert - keys
Alan White - drums
Ben Smith - drums