Newsletter
Get the latest news and show info via email! Sign up for the free newsletter:
Calendar
«
February 2018
»
S
M
T
W
T
F
S
28
29
30
31
1
2
3
4
5
6
7
8
9
10
11
12
13
14
15
16
17
18
19
20
21
22
23
24
25
26
27
28
1
2
3
4
5
6
7
8
9
10

Scottsdale, Arizona

Want me to come to your school? It's easy! Just contact my friends at www.AcademicEntertainment.com!


Friends of St. Patrick Annual Dinner
Seattle, Washington

Want a little Castle magic at your next event? Get in touch.
Feed Your Need
Use an RSS reader? The Geoffrey Castle RSS feed always has the latest list of upcoming shows!
Links
Check out some artists I've played with, DJs who dig my tunes, hip venues, and things I think are cool.
Shannon Castle Art
On Facebook?
Follow me on Facebook and check out exclusive pictures, comments from people who come to the shows, and more!
December 5, 2013
Welcome to the Here Comes Santa Claus edition of
The Geoffrey Castle Newsletter
After a month of rehearsals, phone interviews on radio stations, newspapers, promotional appearances, and the like, it's nice to be able to say, finally, in my best Charlie Brown voice: Christmastime is HERE!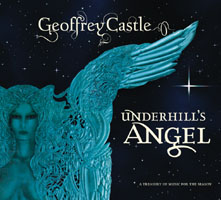 No matter where you live, music makes the perfect gift at any time, but especially Christmas. Think of it this way: if you give them a fruitcake, they either use it as a door stop, or they actually eat it, and then it's gone! Music, on the other hand, lasts forever and fills a home with beauty, magic, and always reminds the listener of the thoughtful generosity of the person who gifted it. Fill your friends and family's homes this season with Underhill's Angel: A treasury of songs for the season.
Order CDs and they will ship in time for Christmas, and you can designate a different recipient too, right there on the purchase page. SHIPPING IS FREE!
All of my Celtic Christmas Celebration shows are selling very well this year. Tickets are really going fast. If there are any tickets left for any show on this schedule, get them quick before they're all gone!
Here's the schedule…
Featuring special guests Beth Quist (Cirque du Soleil, Bobby McFerrin), Bagpiper Don of Nae Regrets, Mac MacDonald as Santa, and the amazing Geoffrey Castle band featuring Darin Watkins, T.J. Morris, Eric Robert and Steve Boyce! Got friends in Ellensburg? Please share!
A Gatsby-themed party, at a centrally located museum for a certain very very large local software company… Want a little Castle magic at YOUR next event? Get in touch!
Scottish Rite Holiday Party with Mac MacDonald and Eric Robert
Need some Castle magic at your next event? Get in touch!
Featuring special guests Beth Quist (Cirque du Soleil, Bobby McFerrin), Bagpiper Don of Nae Regrets, Mac MacDonald as Santa, and the amazing Geoffrey Castle band featuring Darin Watkins, T.J. Morris, Jonathan Sindelman and Steve Boyce! This tiny little intimate theater is one of my new favorite places to play. Last year, they had a REAL Christmas tree. Got to love that.

This will be my 6th Annual Celtic Christmas Celebration at the beautiful 400 seat Kirkland Performance Center. Special guests include the Eastside Firefighters Pipe and Drum Band, Beth Quist, aerialists from Emerald City Trapeze, Bagpiper Don, and the amazing Geoffrey Castle Band!

I am also very pleased to announce the addition of a very special guest: ALAN WHITE. Nominated this year for the Rock and Roll Hall of Fame! He will be there both nights. I love it when he tells stories about recording sessions with John Lennon…

This show is nearly sold out, both nights, so get your tickets now! If they tell you that it is sold out, do not despair: every year, people who bought tickets don't show up. Those seats are released back to the box office 10 minutes before show time. Show up. Chances are 99 percent good that you'll not only get in, but get the BEST seats in the house. Hilarious, but true. Those four empty seats in the front row? That coulda been YOU!

This concert will also feature, in the lobby, a select display of artworks by Shannon Castle!

4pm Matinee!
The full Celtic Christmas show in this 1,200 seat theater…it was magic last year, and I've got a feeling it will be magic again this time around too! Aerialist Elves, Santa Claus, Beth Quist, Bagpiper Don, the Castle All-Star Band and the fearless crew!

This concert will also feature a select display of Artworks by Shannon Castle!
Yes, I do events! Get in touch!
The Coats' holiday shows at the fabulous Benaroya Hall are a Seattle holiday tradition, and I'm very excited to be a special guest at their Thursday evening performance!
This is always a wonderful celebration of community spirit, and the hall is always packed: last year over 1500 were in attendance! Purchase V.I.P tickets for best seats! Can't afford a VIP ticket? Don't worry: this concert is free to the public thanks to the generosity of our sponsors! Oh, you CAN afford a VIP ticket? That's GREAT! Buy six. <LOL> You'll be helping to support local Anacortes charities, and Toys For Tots, USMC. And you'll be helping keep this a "free" concert for those who are less fortunate.
Celtic Christmas Celebration!

T'was two nights before Christmas, and all through the house, the libations were flowing…

See you at Bake's and make your reservations early. This show will sell out! We may add a second show if there's enough demand.
Wild Rover Christmas Party!
Who will be there? What will happen? You'll only know if you make the show!
Hey look! You made it all the way to the bottom of the Newsletter. I love you for that!!
Newsletters are fun, but if you really want to find out what's happening, come and click "Follow" on Facebook! I'm kind of maxed on friends… My official page is almost as much fun and you can find that here.
See you soon!
Peace on Earth
Geoffrey Castle