Newsletter
Get the latest news and show info via email! Sign up for the free newsletter:
Calendar
«
February 2018
»
S
M
T
W
T
F
S
28
29
30
31
1
2
3
4
5
6
7
8
9
10
11
12
13
14
15
16
17
18
19
20
21
22
23
24
25
26
27
28
1
2
3
4
5
6
7
8
9
10

Scottsdale, Arizona

Want me to come to your school? It's easy! Just contact my friends at www.AcademicEntertainment.com!


Friends of St. Patrick Annual Dinner
Seattle, Washington

Want a little Castle magic at your next event? Get in touch.
Links
Check out some artists I've played with, DJs who dig my tunes, hip venues, and things I think are cool.
On Facebook?
Follow me on Facebook and check out exclusive pictures, comments from people who come to the shows, and more!
Deep Well Sessions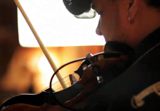 Watch "Minor Swing,"
from The Deep Well Sessions.
Shannon Castle Art
January 15, 2013
Welcome to the Year of the Snake Edition of
The Geoffrey Castle Newsletter
Snakes have a bad reputation. Adam and Eve and all that, you know? So the Year of the Snake soundsa bit of scary… unless maybe snakes want to re-brand themselves, remake their tarnished image, and make this the best year ever in the history of years! Sounds optimistic, but I have reason to believe that it will all come true. With, or without, the mythological snake PR firm's involvement.
Evidence? Firstly, great shows coming up right away in the beginning of this New Year, including shows with folks like John Popper of Blues Traveler, Alan White of Yes, Heart by Heart, Josie Howell (all my friends who've heard me sit in with Darren Motamedy know Josie and her incredible voice), a Living Legends Showcase at the NAMM show in Anaheim, California, and much much more.
And there was Christmas. This year was the most successful Christmas concert run we've ever had, thanks to all of you, who came out and packed theaters across the state of Washington last month. Every place we played is booking us back and opportunities are coming in from communities as far flung as San Luis Obispo and Culpepper, Virginia…sometimes I wish Christmas was six months long!
For those of you receiving this newsletter for the first time, welcome! Hundreds of new names have been added to the list. Not all my newsletters are quite this loquacious, but since it's the beginning of the year I thought I'd have a little fun.
What is new for 2013? Well for starters, every song, and every album is now available for download (no song blackouts) and every CD is available in its entirety for the low price of $9.99 regardless of the format you choose to download for your laptop, tablet, or mobile device.
Format? Okay, this is a bit of an audio-geek thing, but all my musician friends really care about this: when you listen to a CD you are listening to uncompressed audio with the fullness, richness, and tone of the original master. When you download an MP3 (or AAC) audio file, it's compressed so it fits on your iPod more neatly. That's great, but compressed music can lose a lot of the original richness and tone.
My download store dives you format options, including uncompressed WAV audio. iTunes does not.
NEW RELEASES and REISSUES
Watch the download store in the coming months for reissues of landmark CDs from my back catalog, like Wander This World (Guarneri Underground 2001), Captive (Guarneri Underground 1998), and Groovalaya (the self titled CD by my old swing band back in New York City). I will also be uploading more live recordings as they become available, into one great big catch-all album where you can browse and download the songs you want.
DEEP WELL SESSIONS
Last year, I recorded a two disc set called Deep Well Sessions vol. 1 & 2—all solo, and all captured on camera as it was being recorded. Each song done in one take, each take a performance, each performance a video. No one has ever done this before, as far as I know. And it looks and sounds great!
See, and share, the videos by visiting my YouTube Channel!
FACEBOOK
I maxed out on the number of friends I'm allowed to have a long time ago, but you can still subscribe to my personal page, and you can click "Like" on my Fan Page too. Facebook is a great way for us to keep in touch, and for me to let you know what's happening in a more time-sensitive way than sending out a newsletter. Come join my little corner of the Facebook world today!
Oh, and speaking of Facebook, my wife, the beautiful Shannon Connor Castle, has posted photos of artworks that we currently have in inventory that are available for sale, with FREE SHIPPING any where in the US! (If you live someplace like Uzbekistan, we're going to have to charge you something… but we'll still gladly ship art to you, no matter where you live!) Visit her gallery by going to her Facebook page—then open Photos, Albums, Shannon Castle Art For Sale, and you'll be there. There's a flower in most of the pictures to let you know how big the pieces are. :-)
Community Outreach Performances
I love performing in schools, and this winter and spring I'll be traveling to North Carolina, California, Long Island New York, Pennsylvania (they love me in Pennsylvania!), Friday Harbor, and Ohio… Are you a teacher? Want a little Castle magic at your school? Get in touch!
There's lots more news; an almost infinite variety of things to relate to you, my friends, but we will save all that for another newsletter. See you soon!
Here's the Schedule
Thursday, January 17
Private Event

(Yes, I do private events, corporate events, I fly anywhere in the world: even Bellevue! Get in touch!)

Saturday, January 19
Private Event

(Need music for a special occasion? No matter how big or small your vision is, I can make it happen. Get in touch!)

Sunday, January 20
Neptune Theater
1303 NE 45th St.
Seattle, WA
206-682-1414
Tickets available now!

Support Music Education in Washington State Schools!

Play It Forward III is the third annual concert event for musicians and music lovers who want to show their support for music education. Hosted by MusicAid Northwest, Play It Forward III will feature performances from local rock legends as well as up-and-coming musicians, who are graciously donating their time and talents for this unique night of music and entertainment.

I'll be sharing the stage with folks like John Popper of Blues Traveler, Alan White of YES, all the original male founding members of Heart, Lee Oskar from WAR and lots more. This is going to be an incredible show, in support of a cause that you all know is close to my heart.

Monday, January 21 The Wilde Rover
111 Central Way
Kirkland, WA 98033-6107
(425) 822-8940

Waaaa-Hoooo! We will be recording our Monday shows for a possible CD release sometime soon, like maybe before St. Patrick's Day or something organized like that. Stay tuned.

Sunday, January 27
NAMM
Anaheim, California

I will be performing at the NAMM show (an enormous music industry trade show) with the Living Legends Showcase. If you're in the music industry, and you're down there for the party, mark your calendar, check the trade publications, and come visit!

Monday, January 28
The Wilde Rover
111 Central Way
Kirkland, WA 98033-6107
(425) 822-8940

We will be recording our Monday shows for a possible CD release sometime soon, like maybe before St. Patrick's Day or something organized like that. Stay tuned.

Wednesday, January 30
We could tell you, but…

Something is going on somewhere here. Stay tuned!

Sunday, February 3
Seattle Unity
Both Services

Yep, it's Super Bowl Sunday. Pray for the team of your choice.

Tuesday, February 5
School Workshop and Concert
Bethpage, Long Island, New York

I will be working with the students of an award-winning high school / middle school string program all day, and then giving a concert that night.

This will be the debut of arrangements for string orchestra of some of my solo compositions. Yikes!

Thursday, February 7
School Assembly Performance
Mechanicsburg, Pennsylvania

Are you an educator? Are you a parent with a child in school? Are you an ambitious kid? Bring me to your school! Just get in touch with my friends at www.AcademicEntertainment.com—they're very friendly, and way more organized than I am.

Saturday, February 9
VENICE IS SINKING
A masked costume ball
Bell Harbor International Events Center
Seattle, Washington
Tickets available now!

This is a party you do NOT want to miss! Everyone dresses up to the NINES with the ladies all trying to outshine each other with lavish gowns, masks, and hair… The entertainment is going to be equally amazing, with aerialists, vocalists (Rafe Perlman, and more) the debut of FRACTAL—the electronica project that I have been collaborating with—dancers, tarot card readers, jugglers, a veritable circus!

With lights by Michael Duncan, and DJ A.J. Sorbello (Foundation, Last Supper Club) keeping everyone dancing. It's an extravaganza. And it only happens once a year.

Sunday, February 10
Jazz Live at Marine View Concert Series
Marine View Church
8469 Eastside Dr. NE
Tacoma, WA 98422
253-229-9206

I'll be bringing the band back to Marine View for their wonderful concert series! Last time we did this, two years ago, it was standing room only. Great sound, great room, and a great audience!

Monday, February 11
The Wilde Rover
111 Central Way
Kirkland, WA 98033-6107
(425) 822-8940

Waaa-Hoooo! This show is ALL AGES until 9:30pm. We start at 8pm. Bring the kids and catch the first set.

Thursday, February 14
Bake's Place Bellevue
161 107th Ave NE
Bellevue, WA 98004
425-454-2776
with special guest Josie Howell

The perfect Valentine's Date Night? Call and make your reservations ASAP! And for all of you who make up your mind at the last minute, I have some advice for you: COME ANYWAY. Even if they tell you it's sold out.

Here's what happened last time: the show was "sold out" with reservations, but then a whole bunch of those reservations didn't show up. So people who wanted to come got turned away, and we had empty tables. Solution? Make a reservation. If they tell you they're full, come anyway. :-)

See you on Valentine's Day!! Oh, and if you haven't heard Miss Josephine sing, you are in for a REAL surprise. Lord have mercy.

Saturday, February 16
Alki Gallery at Harbor Steps
Seattle

Details are still being worked out for this, but basically I will be performing solo for Shannon's first ever gallery show in Seattle this evening! You don't want to miss this!
WOW! You read all the way to the bottom of the newsletter! I love you for that! Happy Year of the Snake, and remember be the peace you want to see on Earth!
Love
Geoffrey Castle